Cubicles & Vanities
IGLOOS® Washrooms offers an extensive range of vanity units to suit each individual environment.
From individual counter mounted units or multiple recessed basins all vanity units are made to measure. Materials used can accommodate the location whether for more practical hard wearing venues such as schools or public arenas or for more luxurious corporate destinations. We offer ranges from granite, corian and laminate to HPL and SGL in configurations to suit you.
Sanitary ware to complement the vanity units is another key ingredient we offer alongside other accessories such as taps, dispensers and hand dryers.
"We were very pleased with the professionalism and support we received from IGLOOS. We would recommend them as a company for your washrooms installation of refurbishment." YMCA Surbiton
The Active range is a more durable design for venues such as sports facilities and wet room environments.
Bespoke is a tailored design, offering one off products for a unique and exciting finish as may be found in a prestigious corporate office.
Education encompasses all learning institutions from the primary schools, to secondary colleges and university campuses. Offering the rainbow colours and playful themes for the younger pupils to the washrooms created for safer and anti-bullying solutions and even unisex toilet areas.
For Perception a fresh approach is applied to washroom design where an imaginative use of products and materials can create a cutting edge look even within budget constraints. This may be suitable for events venues and exhibition halls.
Active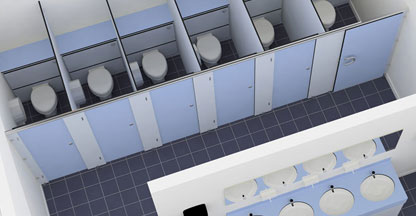 Giggle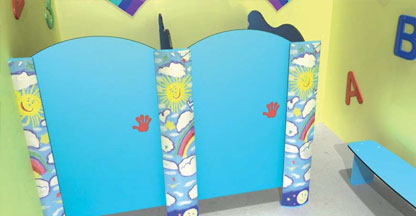 Universal Perception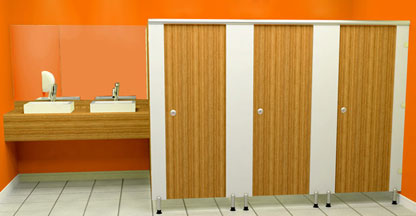 Natural Wood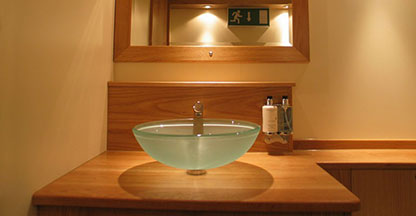 The highest quality of woods such as Oak offers a wonderful warm and beautiful finish with a large and personal range of design possibilities. Qualities include its natural strength and luxurious feel when cut to best show its attractive grain markings. The wood is treated to provide stain and water resistance.
Natural Stone – Marble & Granite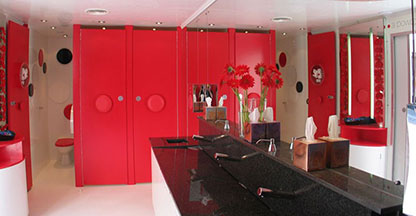 The beauty of a natural stone such as Granite or Marble offers a hard wearing luxury finish. Qualities include strength, heat resistance, hard wearing, impervious and a high resistance to marking. Range of finishes offering fine and large patterns.
Glass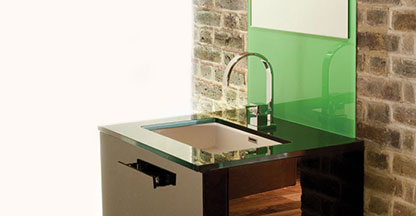 The contemporary design of our glass countertops comes in a choice of gloss or matt colour finishes and can be beautifully blended in design with various natural materials. The technology applied to all worktops includes increased scratch resistance, stain resistance and improved hygiene qualities than other standard glass surfaces. Extensive colour choices from both RAL and Pantone charts.
Solid Surface Material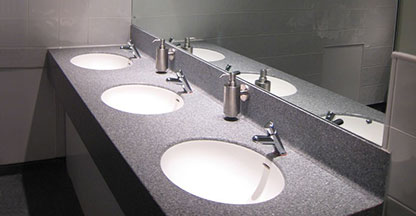 The preferred choice for many venues, offering an attractive and durable vanity unit. The design capabilities through thermoforming and virtually seamless finishes can incorporate various basin shapes from the same material or even create a trough style vanity. The design possibilities are endless making this one of the most exciting materials to work with. Undulating curves and sharp cornering with translucent possibilities offers a greater range of design capabilities than almost any other material.
High Pressure Laminate (HPL)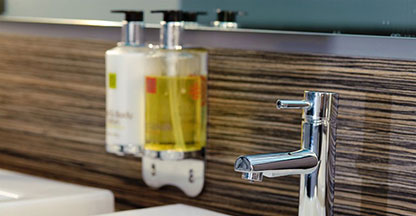 The hard wearing laminate finish is bonded to a core board such as a chipboard or MDF(Medium-Density Fibreboard). It offers great post forming capabilities to incorporate upstands and downstands from a single laminate sheet for improved durability.
Solid Grade Laminate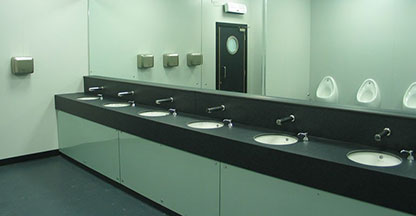 The solid core makes this one of the most durable materials with the following qualities - Shock/impact resistant, heat resistant, impervious, high resistance to scratching, easy to maintain with great resistance against cleaning materials and chemicals. Can also be post formed to incorporate upstands and downstands from the same laminate sheet. Large range of plain and patterned colours.